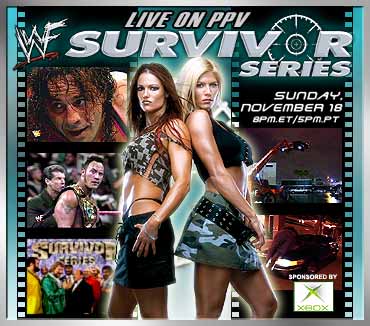 Survivor Series poster.
Welcome to my site!! I dont cover the INDY leagues just the WWF/Alliance. If anyone finds a better site e-mail me telling me what it is so I can check it out and see why it is better then mine. I am trying to make the best site. But so are so many others so I doubt mine is. I am always up to suggestions from anyone so e-mail them to me. Unfortunately NO NUDITY. If you want it go somewhere else cause I dont have it. To e-mail me go to my contact page and send me an e-mail.
Check out all of my stuff. It is worth it!!!


11/6/01
Yesterdays Raw results are up and tonght or tomorrow SmackDown! results will be up. No other new updates yet i still neeed to update title histories and that is it so far.
Keep on enjouing the site!